A new solution, dashboards, will allow advertisers to slice, dice and share their data to surface the most meaningful data and KPIs.
In an effort to consolidate data while providing each advertiser their own important KPI stats, Google is launching dashboards to within their AdWords product. As an advertiser, your first thought might be that this already exists within the "home" tab of an account. The difference with customization "Home" modules and "dashboard" information is that instead of enabling standardized modules, dashboards will allow for customizable tables and charts that can be created from scratch on the spot. Best yet? These dashboards can be shared.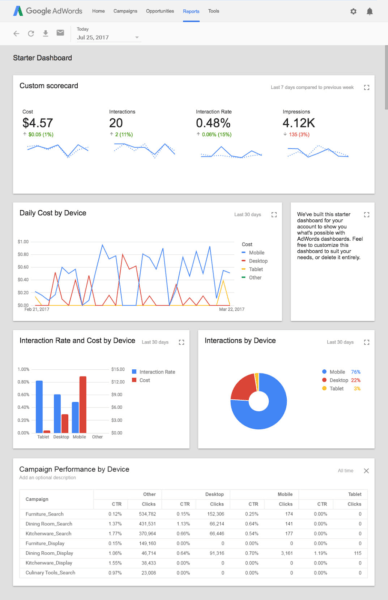 These dashboards will adjust to the date range input and appear to be much more visual than current home modules. The new look mimics Data Studio and should be a huge hit for advertisers. Instead of setting up outside reporting or digging through data to find answers, advertisers can customize a unique look at what matters to them. This is important, as the customizable home modules weren't really custom — advertisers could simply choose what they'd like to see and where they wanted it displayed on the page.
Another crowd-pleaser will be the ability to share dashboards within teams. Much like Google Analytics or Data Studio, these dashboards can be shared and tested by different users. This will allow for collaboration between team members, synchronization with clients and innovation from the community.
SOURCE: http://searchengineland.com/customizable-collaborative-dashboards-arrive-within-adwords-282561